Top five tips for providers using the NDIS Workforce Capability Framework
February 2023
Image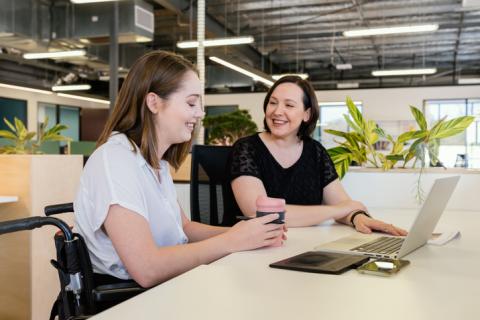 The NDIS Workforce Capability Framework (the Framework) is live and online, with final feedback being collated and actioned following beta testing. NDIS providers, workers and participants assisted in trialling tools to support quality service provision and workforce planning.
You can look forward to more resources on their way, including, Supervision for Capability Resources, a Training for Capability Guide and more participant and provider resources such as videos.
Providers, workers and participants can start using the Framework, tools and guides now to find out how they can best support their workforce planning, recruitment, delivery of services and training of staff.
1.  Take some time to explore the Framework and what it can offer you
It can be really useful to take your own tour around the Framework, tools and guides to get a feel for how it may assist you.
If you are new to the framework as a provider, consider starting with the Position Description Tool, which is very easy to use and interactive. Just fill in the sections related to your organisation and the tool will automatically pull the capabilities from the Framework into a downloadable position description.
This tool is an easy way to gain an understanding for how the Framework describes the capabilities that you and participants want from workers. It can be useful to you when hiring new staff, and reviewing all the work role descriptions across your organisation. Then considering how you will deliver services and describing how they will be delivered.
2.  Consider where to start and what you may need
With a range of tools available, it can be overwhelming to figure out where to start. It comes down to where you are at in your strategy or business planning and how you would like to kick this off. 
A great place to start, that all providers will find valuable, is the Recruitment and Selection Resources. The guide and resources provide practical tools, templates and tips for your recruitment activities that draw from the Framework capabilities, skills and attitudes.
If you want to start with the big picture, then go to our Workforce Management and Planning Tool and take the time to bring key staff and data together. Wherever you start, there is a tool or resource that can support you on the journey to build a capable workforce delivering what participants need.
3.  Talk to your participants about the Framework, tools and guides available and get their input and feedback
Consider sharing the Framework, tools and guides with participants to get their support in building worker quality, and understanding how the resources can support them and assist in good service delivery. By sharing the tools, guides, Framework and language with participants, they gain an understanding of how different supports can be delivered. This is also great for participants who want to play an active role in recruitment and hiring of supports or even learn new ways to provide feedback to workers or their providers.  
The Supervision for Capability resources have guides on working together with participants, workers and supervisors to build a shared understanding of how supports should be delivered. Participants providing feedback with a shared language of 'what good looks like' puts you in a great position to assess and improve the capabilities of your workers.
4.  Try the Self-Assessment Tool for Potential Workers to gain an understanding of what prospective workers will experience
Another excellent tool is the Self-Assessment Tool for Potential Workers, which can bring a greater understanding of disability support work for those considering entering the sector. 
The tool has a simple quiz, some scenarios to choose answers for – more of a 'choose your own adventure' activity. It shows someone what work in the sector could look like and what good work looks like as well as the different area and role types they could choose to work in.
After undertaking the quiz, users will receive a personalised report back showing what part of the sector they may best fit in to. This can be useful for providers doing recruitment for prospective workers as a way of showing the values and attitudes expected from workers in the sector.
5.  Think about how you can use the Framework to develop your business
The Framework is an excellent resource to assist you to meet your requirements and using these resources can provide a great way to differentiate yourself when recruiting workers. You can also use the Framework's Workforce Management and Planning Tool to plan your workforce and be thinking ahead for the next two to three years.
This tool supports NDIS providers to assess their current workforce management practices and plan for the workforce they need. The tool can be used in different ways, either as a source of ideas about what to consider when planning your workforce or as a tool to produce a detailed workforce plan. This is a downloadable Excel file that you can save on your computer and edit at any time as things change or progress. 
Where to next?
The Framework goes through different types of work and capabilities, meaning it can be tailored to the types of work you're doing and your organisation. This can make you stand out from the rest, with an additional line of defence to ensure you're not only meeting your requirements but also have additional support with the tools and guides.
The Framework and first five tools and guides are now online for you to utilise, along with factsheets available and the Supervision for Capability Resources available very soon. 
As more resources and tools become available, the Workforce Capability Framework website will be updated.
Home of the NDIS Workforce Capability Framework | NDIS Workforce Capability (ndiscommission.gov.au)