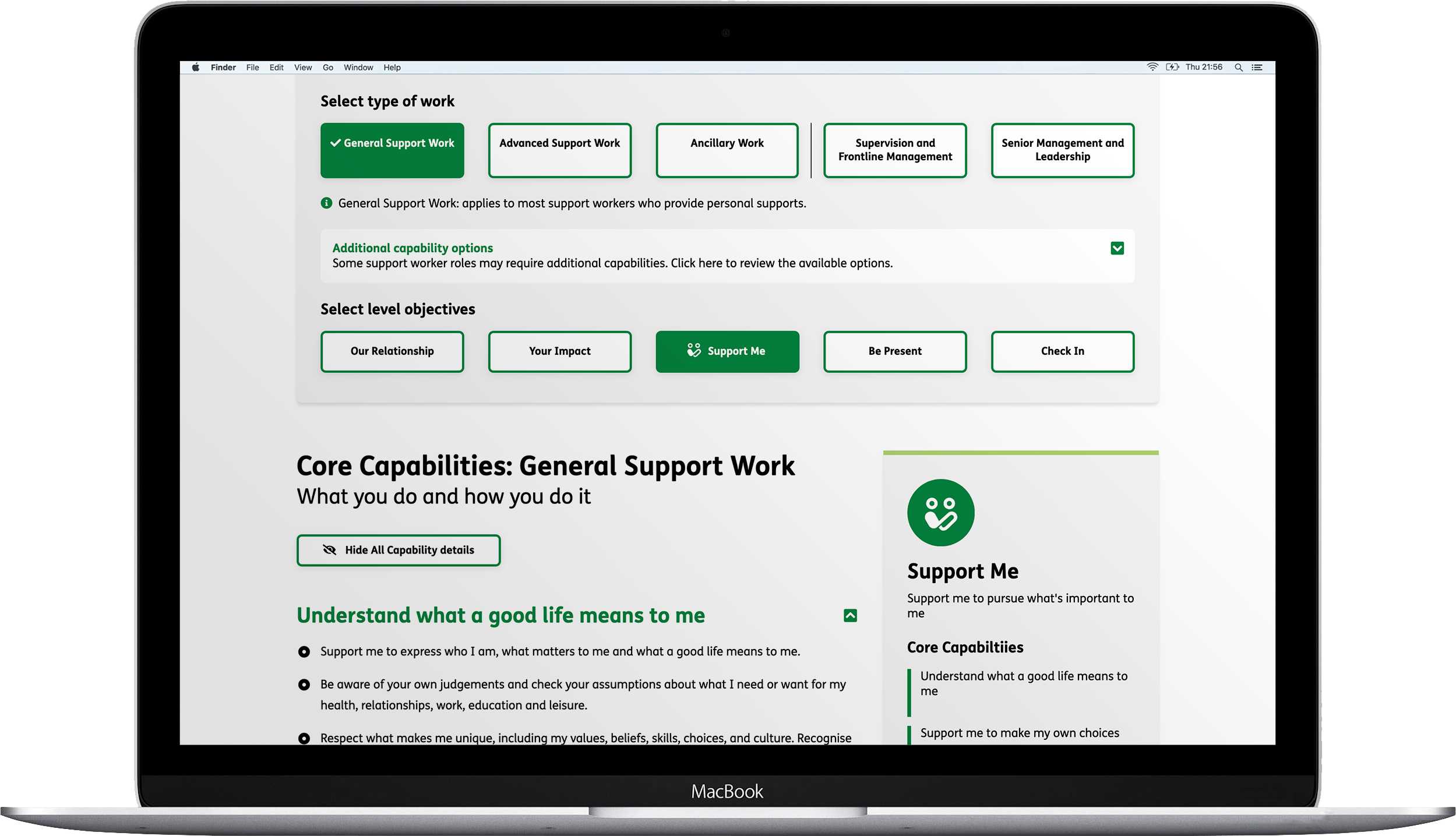 Framework
The NDIS Workforce Capability Framework describes the attitudes, skills and knowledge expected of all workers funded under the NDIS. It gives clear, practical examples and establishes a shared language of 'what good looks like' for participants when they receive NDIS services and support.
On this page:
Who should use the Framework
and how can they use it?
Familiar with the Framework already?
Start exploring capabilities for a role now.
Who should use the Framework and how can they use it?
The Framework is for anyone who needs to understand, direct or participate in NDIS work.
Participants
Participants can use the Framework when talking with their workers or service provider about what they want their support to look like or when giving feedback.
Supervisors and managers
Supervisors and managers can use the Framework to understand their role and to support and give feedback to workers.
Educators and trainers
Educators and trainers can use the Framework to align training and assessment to deliver the capabilities needed.
Workers
Workers can use the Framework to understand what is expected of them in different roles and to help them map out their chosen development pathway.
Senior managers and leaders
Senior managers and leaders can use the Framework to establish an organisational culture, systems, policies and processes that nurture and promote a capable workforce.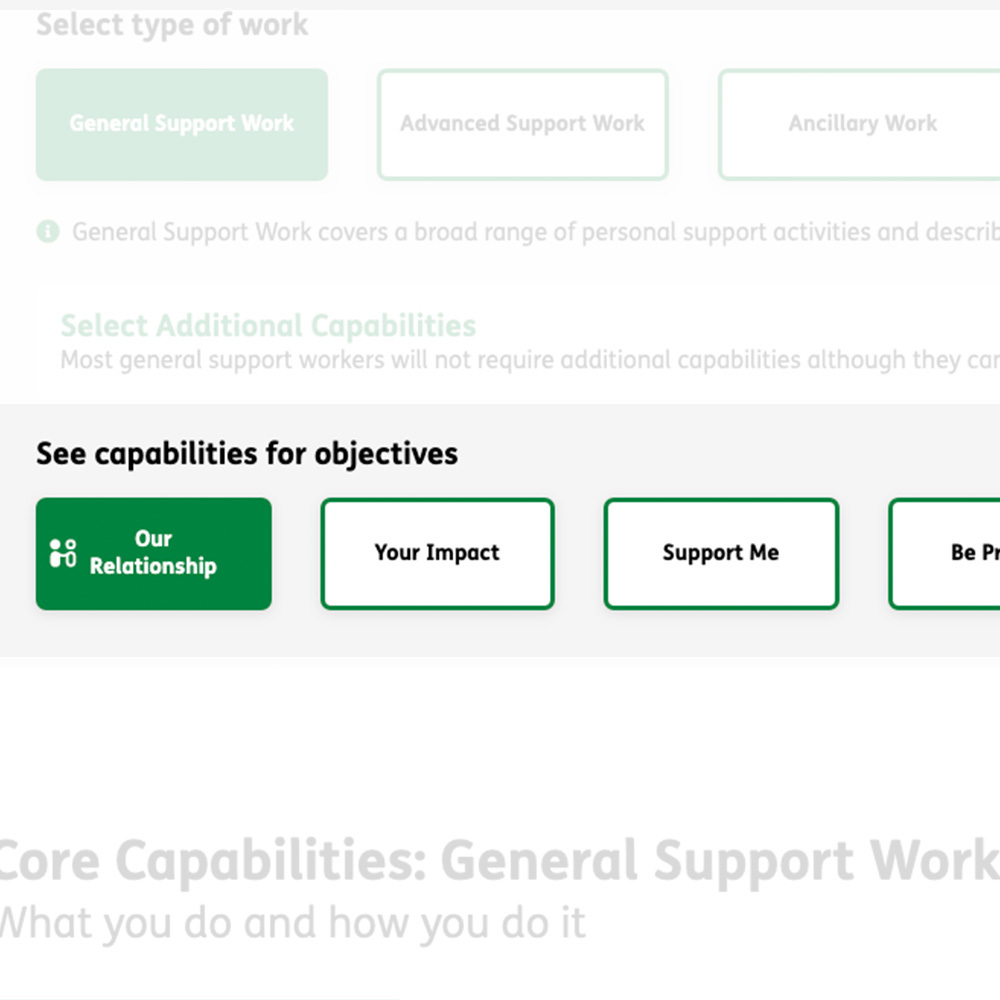 Objectives
The Framework is organised around the essential characteristics of work in the NDIS. There are five broad objectives to describe common expectations. Review the FAQs to find out more about how the objectives are used in the Framework.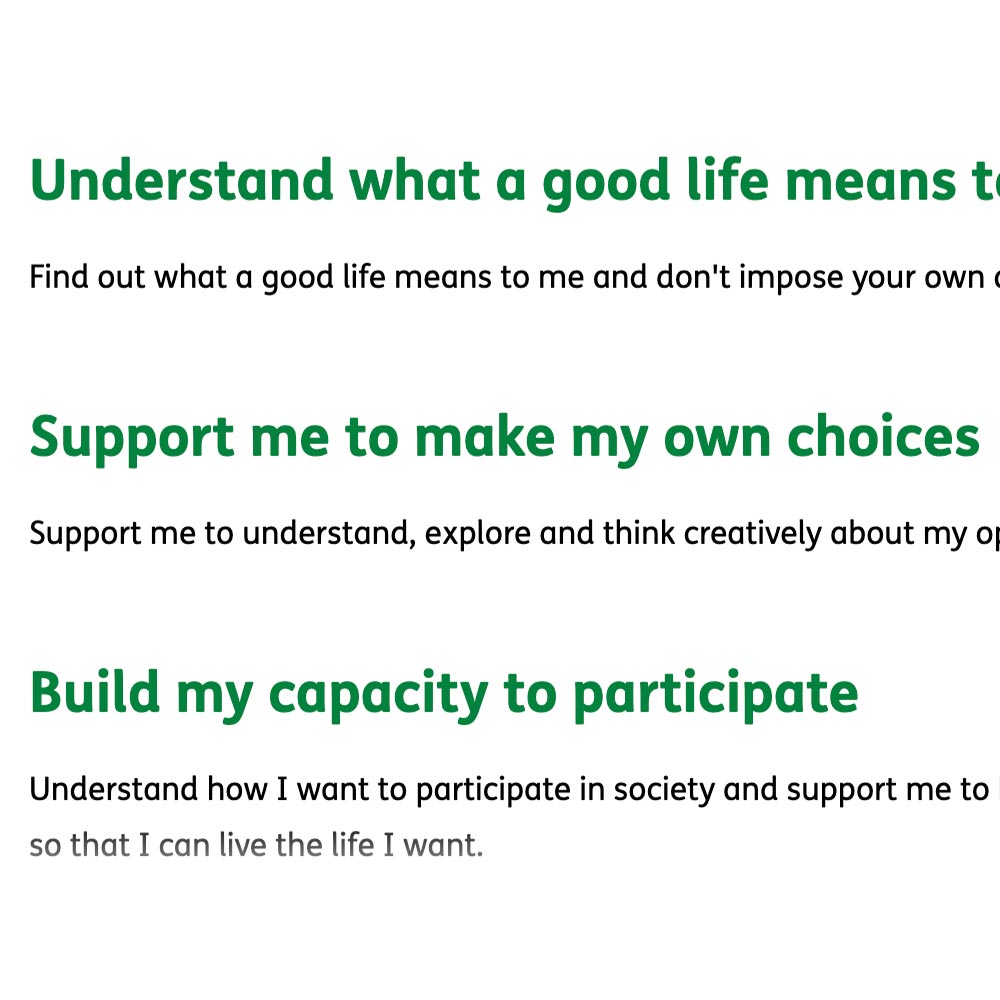 Capabilities
Capabilities are grouped under the five objectives. They describe attitudes, skills and knowledge in terms of practical, observable examples of expected behaviours. The Framework also lists the essential knowledge required to support these behaviours. Capabilities are the foundation for building detailed descriptions of support activities and procedures, suited to different participant needs and delivery environments.
The Framework contains different sets of capabilities to support different types of work.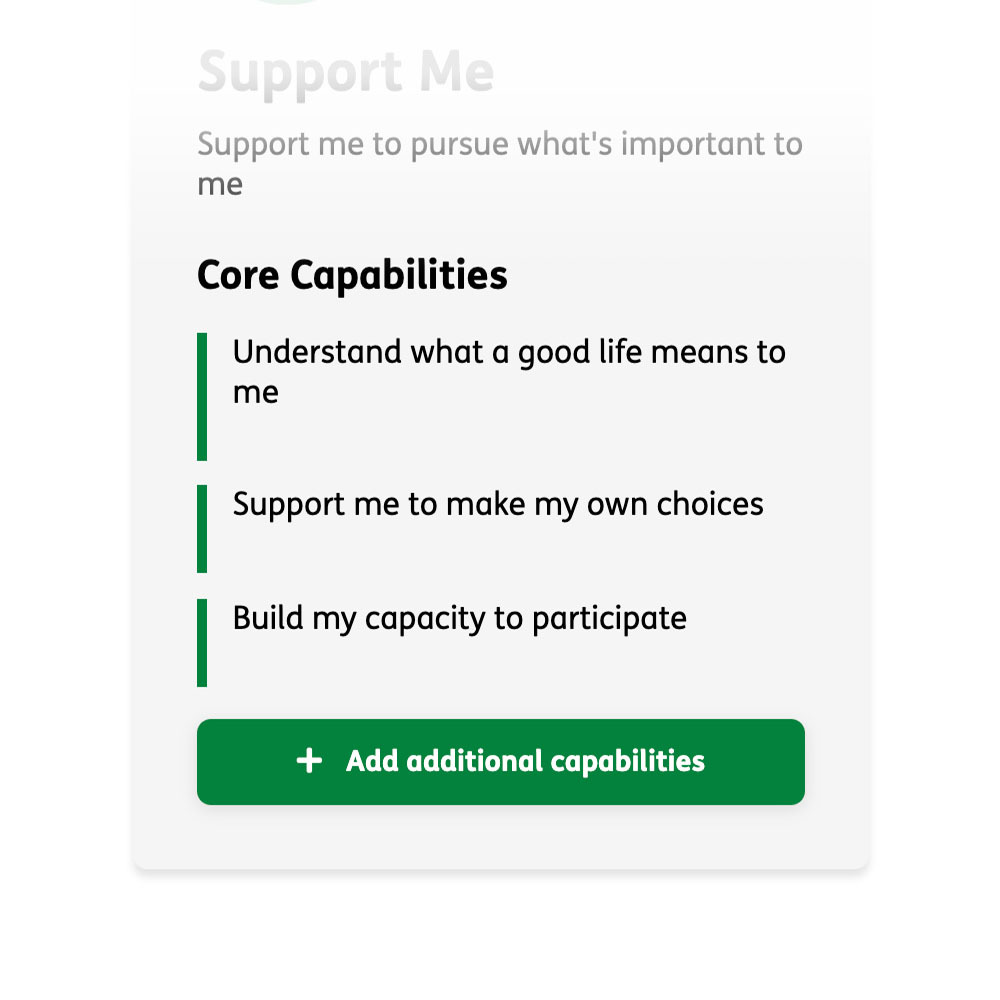 Core capabilities
The core capabilities lay the foundation for working in ways that listen to, respect and work alongside participants to support them to live the lives they choose. There are three different levels of core capabilities that reflect different types of work: general, advanced and ancillary.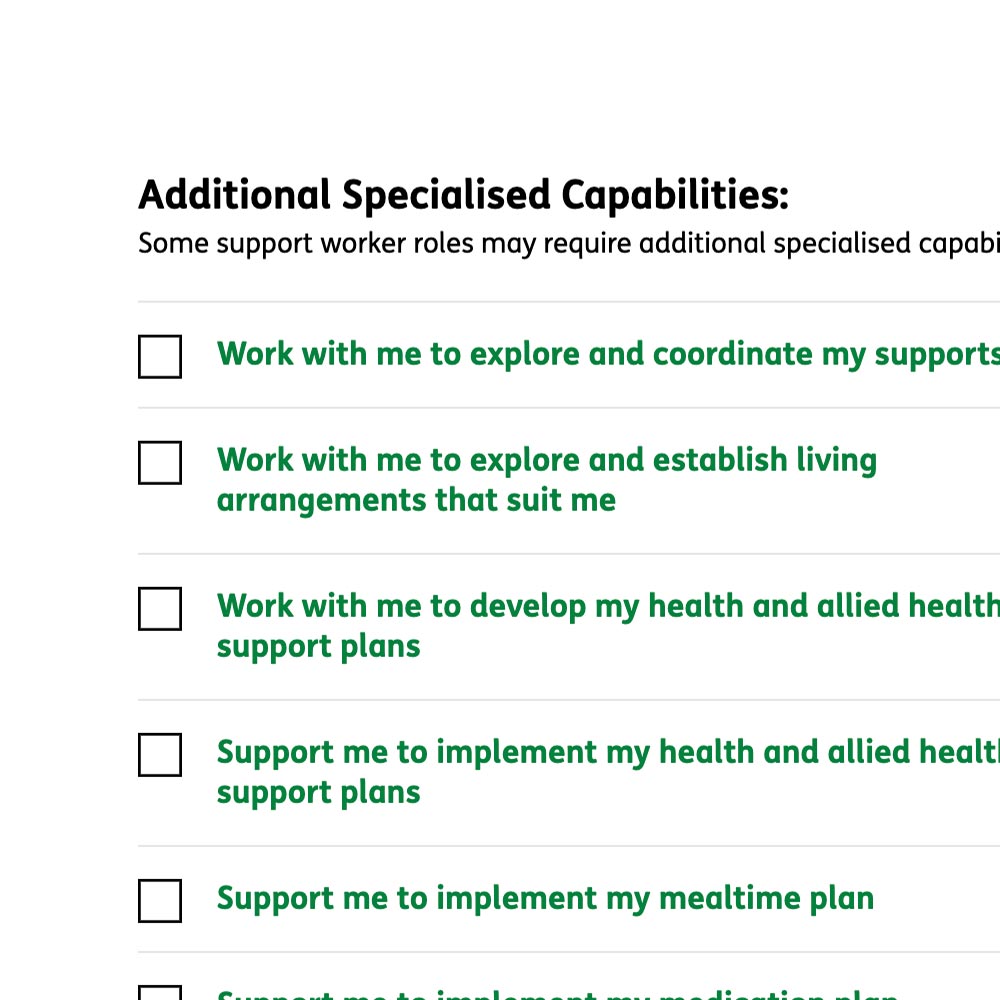 Additional capabilities
Most workers will only need core capabilities but, depending on the needs of the participant, general and advanced support workers may require additional capabilities. These capabilities are shown under the objectives where the core capabilities don't sufficiently cover the requirements.
There are two sets of additional capabilities.
Identity capabilities apply when greater depth of capability is needed to support participants who identify as Aboriginal and/or Torres Strait Islander, are culturally and linguistically diverse, or LGBTIQA+. Specialised support capabilities apply when supporting participants who require specific types of support such as health-related support.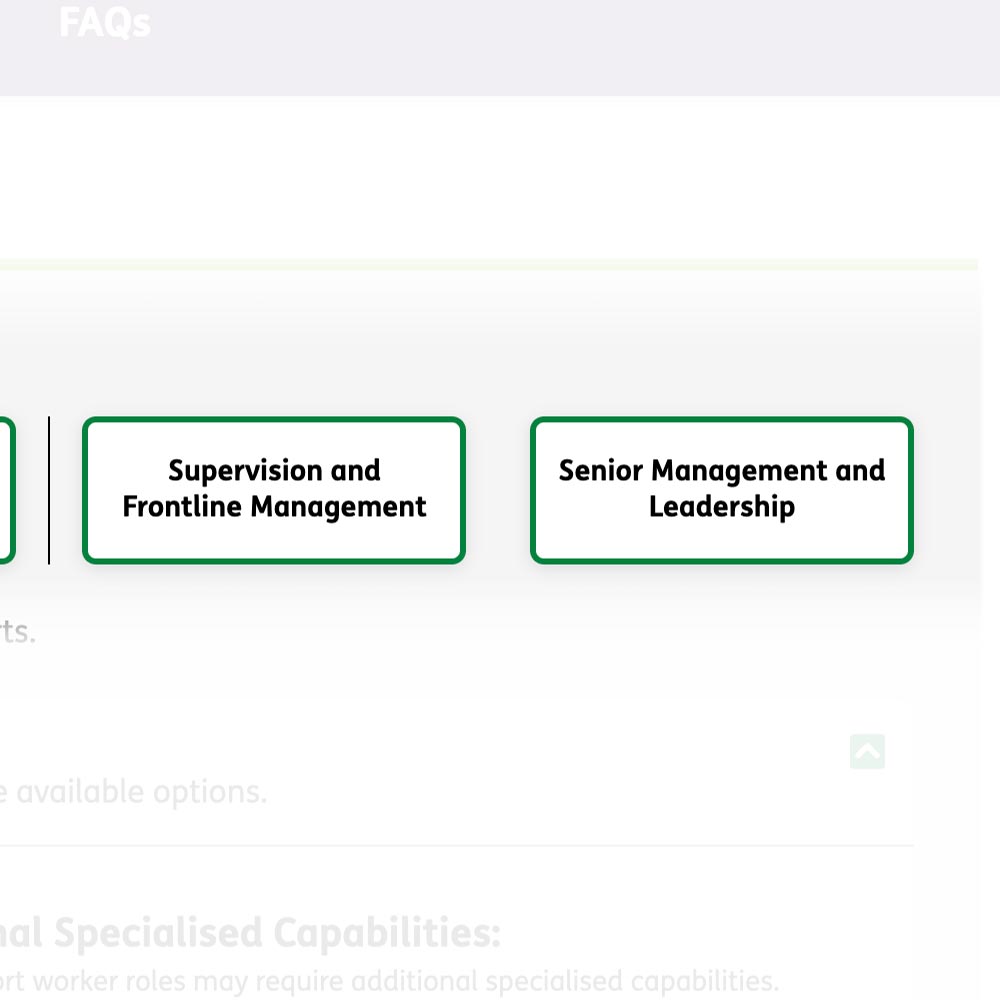 Organisational capabilities
In addition to worker capabilities, there are two sets of organisational capabilities that describe management and leadership capabilities to support a capable workforce. One applies to frontline managers and supervisors, the other applies to senior managers, business leaders and board members.
Find capabilities for a role
To see the core capabilities for a role, select the type of work.
Most workers will only need core capabilities. Some general and advanced support roles may also require additional capabilities. See the next page for more information on additional capabilities.